SUMMARIZE
TR Series helical gearmotor is a new generation mechanic-electrical integrated product, which designed basing on the modular system. It can be connected respectively with motors such as normal motor, brake motor, explosion-proof motor, frequency conversion motor, servo motor, IEC motor and so on. It can be mounted discretionary six orientation in solid space. This kind of product is widely used in drive fields such as textile, foodstuff, beverage, chemical industry, automatic arm ladder, automatic storage equipment, metallurgy, tobacco, environment-protection and logistics and so on.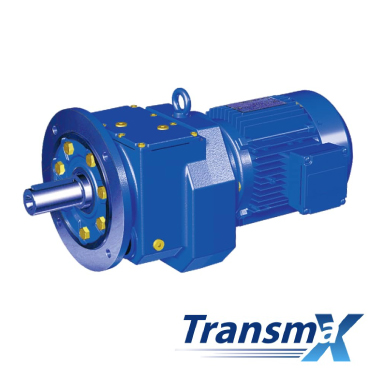 PERFORMANCE CHARACTERISTICS
1. Transmission ratio with fine stage covers a wide range;
2. Compact structure takes up small room;
3. Low vibration; low noise; low energy dissipation;
4. Refined design; reliable and wearable; wide usage;
5. Modular, multistructure, can be combined in many forms to meet needs of all kinds of transmission conditions.
TR Series helical gearmotor of 1-stage, 2-stage or 3-stage helical gears unit and motor. The helical gear which use the material of high quality alloy steel with the  surface hardened takes shape through processing of high-precision equipment. Except the TR 28 housing with aluminium alloy, all are cast iron housing. Housing is exactly processed to ensure the shape and position precision, and it reaches advantageous performance such as: strong bearing capacity, long service-life, small volume, big ratio, light weight, high efficiency, low noise.
TR Series helical gearmotor has more than ten models. Combined with TRF Series, the multi-stage gear reduction can be achieved. Power 0.12 – 160kW; Ratio 1.3 – 27001; Torque 69 – 18000Nm. It can connect (foot, flange) discretionary and use multi-mounting positions according to customers' requirements.
Interested? Contact Us Now!